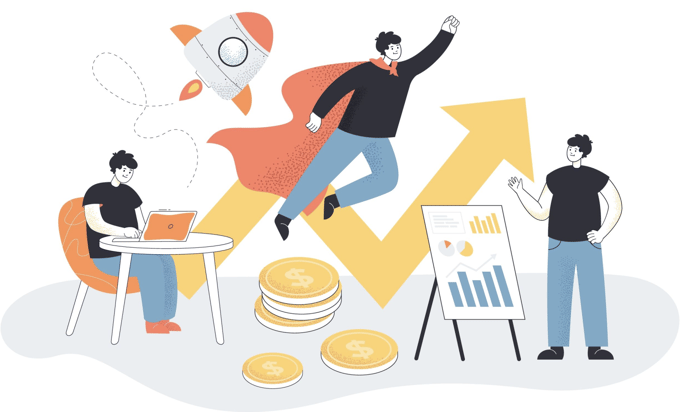 Unleashing the AI Superpower: Power Platform's Journey into the Future
Microsoft Inspire may have come to a close but the excitement surrounding the AI advancements for Power Platform is just beginning. As we reflect on the event and Microsoft CEO Satya Nadella's captivating words: "We have a new superpower", it's evident that the future of low-code software development is more thrilling than ever before. So, let's delve into the game-changing potential of AI technology, and how it empowers developers at every level to unleash the true potential of Power Platform.
The Rise of Low-Code Platforms: Empowering Developers Everywhere
Software development has become a critical aspect of business success, with the ever-increasing demands for faster development cycles and smarter applications. The need for more efficient and agile development tools is evident and low-code platforms have emerged as a game changer. These platforms have created a role for every level of developer, from citizen developers through to IT professionals and coders. They have allowed greater collaboration, fostering fusion development teams where the IT professionals and coders are able to provide pro-code connectors and accelerators to enable citizen developers to create powerful low-code solutions. Power Platform has been at the forefront of this revolution, recently experiencing a remarkable 50% expansion in usage in Microsoft's FY23, reinforcing its leading position as the most widely used low-code platform.
Power Platform has had AI capabilities for several years now, with features such as AI builder allowing low code AI solutions for common use cases like invoice recognition. More recently, additions like "Describe it to design it" in Power Automate have further simplified the experience of creating an automated process by adding a natural language interface. Another great example of how AI capabilities can accelerate low-code development and reduce barriers to entry is in the "Conversation booster" feature in Power Virtual Agents. When creating a bot, you can now simply provide a URL to a website, knowledge base or any other information source and your bot will then be able to instantly answer user questions and chat about the specified content without having to create specific topics. This feature greatly reduces the amount of manual authoring required to get started with a bot and removes the need for ongoing maintenance to keep the bot in sync with a published knowledge source. Also, it reduces the number of human escalations as the bot can now chat over a wide range of content without the need for additional manually created topics.
The addition of Copilot across Power Platform democratises AI and innovation, allowing organisations to really take this to the next level. Getting started with creating an app, automation or chat bot has never been easier. Using natural language as the interface for creating a Power Platform solution allows and encourages every level of developer to begin their development journey and start to create valuable solutions for their organisation. Removing the need for any development experience or prior knowledge of AI is where I believe Copilot will bring its unmatchable value, as an accelerator for creating AI-driven low code solutions with fusion teams supporting citizen developers to turn these into resilient, production-ready solutions.
Remember, AI is powered by your data. Another key area where I believe Copilot will shine is process intelligence. One of my personal highlights from the Inspire sessions was the announcement of Power Automate Process Mining becoming generally available on August 1st, 2023 as this is something that I have been keeping my eye on for a while. Supercharged with AI and Copilot, it allows organisations to visualise and optimise processes, and identify and remove bottlenecks effortlessly. Low-code automation solutions can then be easily created, targeting high-value processes to deliver impactful results.
"If you don't jump on the new, you don't survive."

-Satya Nadella, Microsoft CEO
With great power, comes great responsibility. To maximize the potential of Power Platform, it's crucial to build a Power Platform Centre of Excellence and foster a vibrant maker community. This will ensure that developers at all levels are collaborating effectively as fusion teams and plays a crucial role in ensuring deployments are governed and solutions are resilient and production ready.
The journey forward is nothing short of exhilarating – democratised AI, Copilot, and Process Mining are unlocking unprecedented potential for Power Platform developers. Embracing this new superpower will drive innovation, agility, and success. Let's build a strong developer community and lead the charge towards a smarter, more connected world with Power Platform.
If you're keen to check out these Inspire sessions for yourself, they can be found at Microsoft Inspire 2023 and for the latest on features coming to Power Platform, check out the Microsoft Power Platform 2023 release wave 2 plan overview
How can we help?
This is where we come in. As a leading Power Platform digital transformation specialist, at Akari, we work closely with our clients to understand their unique needs and challenges. Based on this understanding, we develop customised low-code solutions tailored to your specific requirements. Our team of experts have extensive experience in developing applications that are user-friendly, efficient, and scalable and have worked with some of the biggest brands in the UK and beyond. We use an eco-system of the latest Microsoft Technology and build around you - celebrating each client's uniqueness and filling in the app gap, while also offering managed support and training.
The Power Platform is a game-changer for organisations looking to streamline their operations, automate workflows, and gain valuable insights from their data. With its low-code tools and pre-built connectors to a wide range of data sources and applications, it's never been easier to build custom applications that solve everyday business problems without the messy and extensive coding knowledge. And at Akari, we are committed to helping our clients achieve their business objectives by leveraging the full potential of the Power Platform.
We believe that creating a culture of continuous learning and knowledge sharing is essential in reaching professional excellence, and understanding how to get the most out of your solutions. We encourage developers to stay updated with industry trends, participate in our workshops, and share their knowledge within their teams to foster a proactive mindset to stay ahead of the curve.
Want to get in touch?
As a Microsoft FastTrack Ready Partner with extensive industry and technology experience, we help organisations to improve productivity. We are uniquely placed to drive the adoption of Microsoft Technologies and level up your organisations way of working using your use cases!
If you want to find out more information on using Power Platform to automate your processes, get in touch!
Get in touch
Book a call
with us

If you'd like to learn more about our solutions or products, please contact us. We've got a wealth of insights to share.