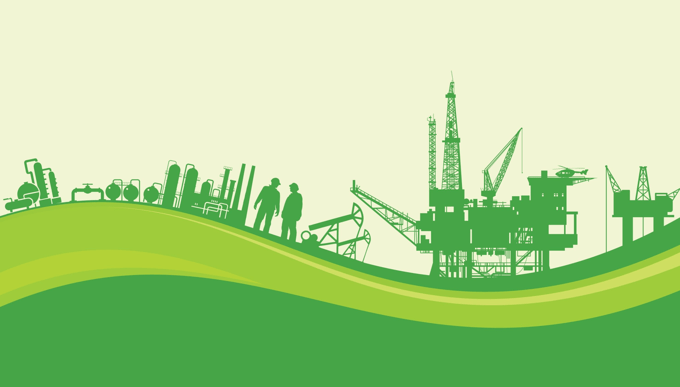 Reduce the risk of fines within the oil and gas industry and help meet net zero targets
With Climate Change drastically increasing the world is losing its natural resources - we're all under pressure to decrease our carbon footprint. Oil & Gas are now being fine! With the demand for climate change drastically increasing, the Government has set targets for businesses to reduce their carbon footprint by a percentage and met by a certain time.
Here at Akari, our core mission is to deliver meaningful change with creative technologies. We build customised solutions, leveraging Microsoft Technologies, to meet your unique goals and needs! With a passion for sustainability, inclusion, and a better way of working - we set out to design products and solutions with a true purpose.
How much are Oil & Gas companies being fined?
"The minimum fine for regulatory non-compliance is £2,500 per day, per violation. The maximum ranges from £25,000 - £1,000,000 per day, per violation!"
Listed below are great ways the oil and gas industry can transform the way they work, decrease carbon footprint and leverage their existing investment within Microsoft for some quick wins, all whilst becoming more sustainable:
1. Read & Sign.
Since 2011, the average cost of non-compliance problems in organisations has increased by 45% - what can you do to help prevent this from affecting your business?
With hybrid working being a new reality, communication is difficult to maintain and manage within an organisation. Regulated industries such as Oil & Gas require employees to read, acknowledge and accept documents such as security briefings, operating procedures, or health & safety documentation - does this sound familiar to you?
We installed the Read & Sign app, integrated into Microsoft Teams, where users can quickly send, receive, track and report on policies and regulations. To be able to streamline a very manual, time-consuming, and paper-based process whilst remaining compliant. For example, sending a document to management, they can access and edit this document to sign, and then they are able to send this document back to you!
2. Digital Screens.
Did you know ... 66% of employees say they would quit if they felt left out. This is important to focus on employee experience to keep people feeling connected to the company and aligned with the over all-purpose! Organisations with a high percentage of frontline workers typically share information in communal areas such as staff rooms using pinboards; Oil & Gas is a great example of how it is impractical for staff to have constant access to a screen outside of a mobile device. These dated methods are no longer effective!
We developed a digital display screens application for businesses within Microsoft Teams to replace these manual communication methods, and because it's in digital format, it allows interactive and dynamic two-way communications with their frontline workforce. This breaks down barriers for frontline workers to access key information from the organisation HQ as well as saving paper usage for letters and posters etc.
From transforming dated methods of communications to allowing your business to collaborate dynamically and interactively with all employees - to post messages to a display, this increases their visibility of communications and enabled field staff to see important messages on their devices.
3. Approvals App.
The Approvals app: a customised solution, surfaced in Microsoft Teams, making the process of creating and approving all important documents much more streamlined and simplified for all users.
From frontline workers to office-based employees, the likes of Health & Safety standards and agreements or updates on policies and procedures are massive within the Oil & Gas industry, and sometimes staying on top of relevant documents and getting them out as efficiently as possible can be challenging.
With Approvals, you can upload a document into the app, assign approvers to review, and get feedback all within a few clicks! Not only does this improve the process from start to finish but it also reduces the need for paper-based documents to be issued out to all employees or printed multiple times, in multiple versions after feedback is given.
Want to be more sustainable?
We want to deliver meaningful change with creative technologies - all our solutions hinge on accessibility and inclusion. As an elite Microsoft FastTrack Partner, we have access to exclusive funding - book a free consultation with us, to find out more about Microsoft funding available to help your organisation become more sustainable!
Get in touch
Book a call
with us

If you'd like to learn more about our solutions or products, please contact us. We've got a wealth of insights to share.