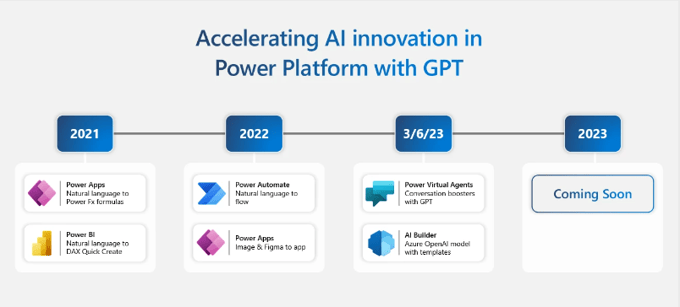 Say Hello to Your New AI-Powered Teammate: Microsoft's Latest Preview Features for Power Platform, Including Chat GPT and AI Builder
Exciting news from Microsoft with the launch of new preview AI features for Power Virtual Agents and AI Builder, enabled by Azure OpenAI Service. But what does that mean for our clients and Power Platform users everywhere and how does it build on the current capabilities of Power Platform?
AI features for Power Virtual Agents (PVA): When Akari initially worked with chatbot solutions, we utilised significant custom development to create and train natural language. With this advancement, PVA can use AI to create a more seamless, learning chatbot for your organisation.
In customer support; PVA can be used to build a chatbot that handles customer support inquiries. By using Boost to train the chatbot, the chatbot will understand and respond to customer inquiries accurately and effectively. This will reduce the workload on human customer support agents, improve response times, and increase customer satisfaction. Imagine employee onboarding, where a chatbot could help new employees navigate the onboarding process. By pointing it at relevant resources, and answering those settling in questions that currently eat up so much time. With Conversation Booster, limitations can be removed if the bot hits a question or response, it hasn't been trained on. At present this would then mean connection to a human agent but with this new feature the chatbot can be pointed at data sources like company websites or knowledge bases to allow them to source information and construct a response for the user without additional development or training ensuring employees are free to handle complex customer queries.
AI Builder: This clever new tool helps quickly analyse and examine large data sets and extract relevant information without needing advanced technical skills. The prebuilt connectors help extract data from invoices, receipts or even analyse sentiment.
A great use-case is expense management: using AI Builder prebuilt connectors helps extract data from receipts and invoices, automatically categorise expenses and identify potential fraud or errors. This will reduce the workload on finance teams and improve both accuracy and compliance. Additionally, it can analyse and act upon client feedback identifying sentiment and identifying common themes or issues. This will improve the customer experience, identify areas for improvement, and aid data-driven decision making.
ChatGPT: The now famous Text GPT Model can be embedded with its intelligent text generation features into Power App and Power Automate solutions. This can include including pre-built models for category classification, object detection, prediction, and sentiment analysis with just a few clicks. Pre-built templates interact with the model and build prompts that are tailored to their specific workflow, reducing development. For example, a legal firm could use the model to automatically summarise lengthy legal documents, saving time and improving accuracy and using Power Automate, the summarised text could then be sent to lawyers' inboxes, making it easier for them to review and analyse the information.
Meaning, in healthcare using Power Automate, a data flow can be triggered when a new research paper or study is added to a SharePoint library or other data source. The flow passes the text of the research paper to the Create Text with GPT model in AI Builder. The model generates a summary of the research paper using next-generation AI capabilities. The summary is sent to the researchers' email inboxes using Power Automate, making it easy to review and analyse the information. These are just a few of the ways we can utilise the new features to build on the already amazing ways we have been utilising Power Platform for our customers, utilising the Microsoft stack to create solutions built around them.
I'd love to hear your thoughts on what these new features mean to you and what you are most excited about. Also if you are interested in how we are already using Power Platform to build solutions around our clients, please give Akari's LinkedIn page a follow.
Get in touch
Book a call
with us

If you'd like to learn more about our solutions or products, please contact us. We've got a wealth of insights to share.