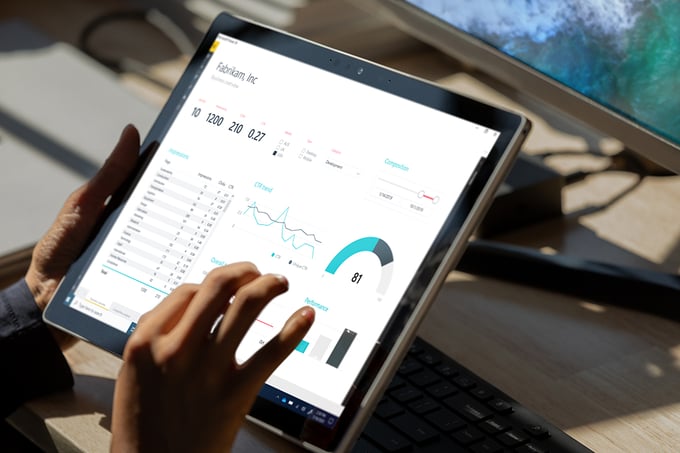 How Power Platform is Enabling Greater Collaboration and Rebuilding Our Working World
The global coronavirus pandemic has triggered massive changes in the way we work, socialise and collaborate.
Whilst we will all be happy to see a return to normality after the events of the past year, a change that will have a lasting effect is the digital revolution triggered by businesses being forced to adapt to remote and hybrid working. As businesses have transformed and adapted, the implementation of Microsoft Teams and Power Platform-based applications has enabled companies to develop new ways of communicating with colleagues, stakeholders and partners. The Covid-19 pandemic has forced changes in business operations which has expediated the demand for automated business solutions and remote working practices as companies seek to reduce their operating costs and recover strongly from the current crisis.
Microsoft Partners have played a massive role in helping businesses to adapt during these times and are building the infrastructure for how companies will operate and collaborate going forward. Microsoft Power Platform enables and encourages businesses to develop and deploy low code applications within Microsoft Teams and mobile devices simply and efficiently. This has enabled companies to manipulate the data they generate around their specific business and/or departmental needs. These benefits can be further amplified through the implantation of RPA process flows within Power Automate.
Multi-tenancy applications developed within Power Platform is cutting down on the amount of red tape between departments and organisations which has previously been a barrier to cooperation and growth. Previously communicating which would require human interaction via traditional communication methods such as email, instant messaging and telephone can be conveyed automatically through generated reports to multiple partners on simple data input.
Power Automate is massively reducing the time taken to perform various tasks across tenancies. Previous data input operations may have taken hours for individuals to input data and exchange via conventional methods. Power Automate flows can be set up to instantly process this data into tailored and well-structured reports based upon a wide variety of potential trigger methods such as it being a certain time, the user pressing a button or a change in a value in a data store.
Reports generated through collective data sharing can be adapted to Power BI dashboards which can be used to provide detailed analysis of current operations and enable businesses to make more informed and effective decisions. Ultimately, the main benefactors of these decisions are the company's stakeholders and the end customers for decisions are being based upon more accurate and appropriate data. With better decision-making from data generated via power platform-developed applications, businesses can dynamically innovate their products and services around customers changing needs. This can result in greater customer satisfaction which can often lead to repeat custom and constructive feedback data, further benefiting practices going forward.
There are countless opportunities for Power Platform applications to not only solve but improve real-world business problems. For example, stock management applications and purchasing flows can be set up to improve communication on large-scale projects involving different agencies and tenants. As somebody who has previously worked in automotive production, I have seen first-hand how improved stock management and logistics between partners can result in massive improvements in productive efficiency and maximising business revenue and profitability. In large-scale assembly line production, factories operate on a stock management model called 'Just In Time.' This is due to the rapid use rate of stock components and storage space is limited and a luxury. Through Power Platform Applications, a user can input into the system that they are taking x amount of certain item to move it from storage location A to production location B where it will likely be used up very quickly. Flows can be configured to generate emails to both the purchasing teams to order more of the item immediately and to the supplier and delivery partners to inform them of the impending order. This will help to ensure that parts are delivered quickly and efficiently and minimise assembly line downtime which strongly hinders revenue and better data flows can help eliminate the likelihood of logistical bottlenecks developing in the production chain.
Whilst Power Platform can drive better data flows in manufacturing industries within the secondary sector, operations across all sectors of the economy can benefit from the more effective manipulation and sharing of data. When it comes to the retail sector, Power BI reports can provide live information of what items are most popular in which stores for purchasing departments are often based in centralised locations in another city or country and operating within separate Microsoft tenants. For example, Power BI reports can inform a global sporting goods chain that they are seeing greater profit margins from the sale of cricket gear in their stores in India than they are from running shoes in their stores in the UK. They can use this data to then make better-informed decisions on how to maximise their profits from the sales of cricket gear in India and meet those high demand levels and seek alternative ways to maximise their profits within the UK.
Data is the fuel that is driving modern business and economic growth which will help us build a world where it can respond to ever-changing consumer needs and tastes and generate a society that is better for all. Microsoft Power Platform is the perfect engine to help drive positive changes and growth as we progress from this modern age of information into the future.
Get in touch
Book a call
with us

If you'd like to learn more about our solutions or products, please contact us. We've got a wealth of insights to share.