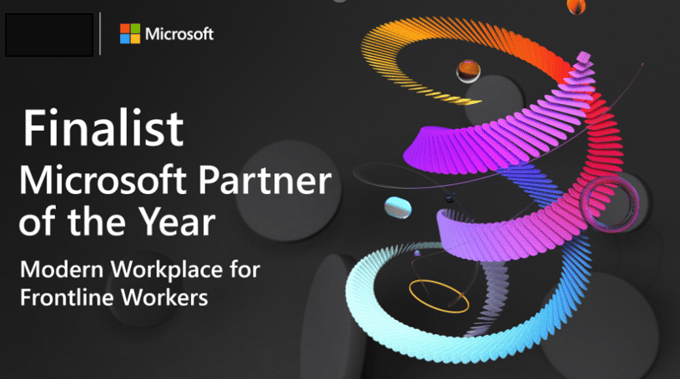 Akari Solutions 2021 Microsoft Modern Workplace for Frontline Workers Partner of the Year finalist
Akari Solutions recognized as a finalist of 2021 Microsoft Modern Workplace for Frontline Workers Partner of the Year
Glasgow, Scotland — July 9, 2021 — Akari Solutions, today announced it has been named a Finalist of Microsoft Modern Workplace for Frontline Workers 2021 Microsoft Partner of the Year Award. The company was honoured among a global field of top Microsoft partners for demonstrating excellence in innovation and implementation of customer solutions based on Microsoft technology.
Margaret Totten, Managing Director at Akari Solutions said, "We are truly honoured to have been selected a finalist at this year's awards. The last 12 months has been the most perfect imperfect year for everyone. However, despite the obvious challenges the pandemic has brought, we've still managed to grow more than 127% and continue to deliver solutions that positively impact our customers and their wellbeing".
The Microsoft Partner of the Year Awards recognize Microsoft partners that have developed and delivered outstanding Microsoft-based solutions during the past year. Awards were classified in various of categories, with honorees chosen from a set of more than 4,400 submitted nominations from more than 100 countries worldwide. Akari Solutions was recognized for providing outstanding solutions and services in Modern Workplace for Frontline Workers.
Akari have delivered more Frontline Worker engagements in FY21 than any other UK Partner, enabling retail and healthcare organisations to continue to deliver essential and lifesaving jobs during the Covid pandemic using Microsoft Teams. From providing connected, co-ordinated care for NHS workers, to building an innovative solution to allow one of the UK's largest councils to facilitate a safe return to hybrid working.
"I am honored to announce the winners and finalists of the 2021 Microsoft Partner of the Year Awards," said Rodney Clark, Corporate Vice President, Global Partner Solutions, Channel Sales and Channel Chief, Microsoft. "These remarkable partners have displayed a deep commitment to building world-class solutions for customers—from cloud-to-edge—and represent some of the best and brightest our ecosystem has to offer."
Akari Solutions are a Microsoft partner with a twist. Proudly female led and female founded, we design, build and manage solutions that leverage the power of Microsoft Teams, Power Platform and Microsoft 365, that enables our customers to create people centric solutions that positively make a difference. Visit www.akari.io for more information.
Get in touch
Book a call
with us

If you'd like to learn more about our solutions or products, please contact us. We've got a wealth of insights to share.